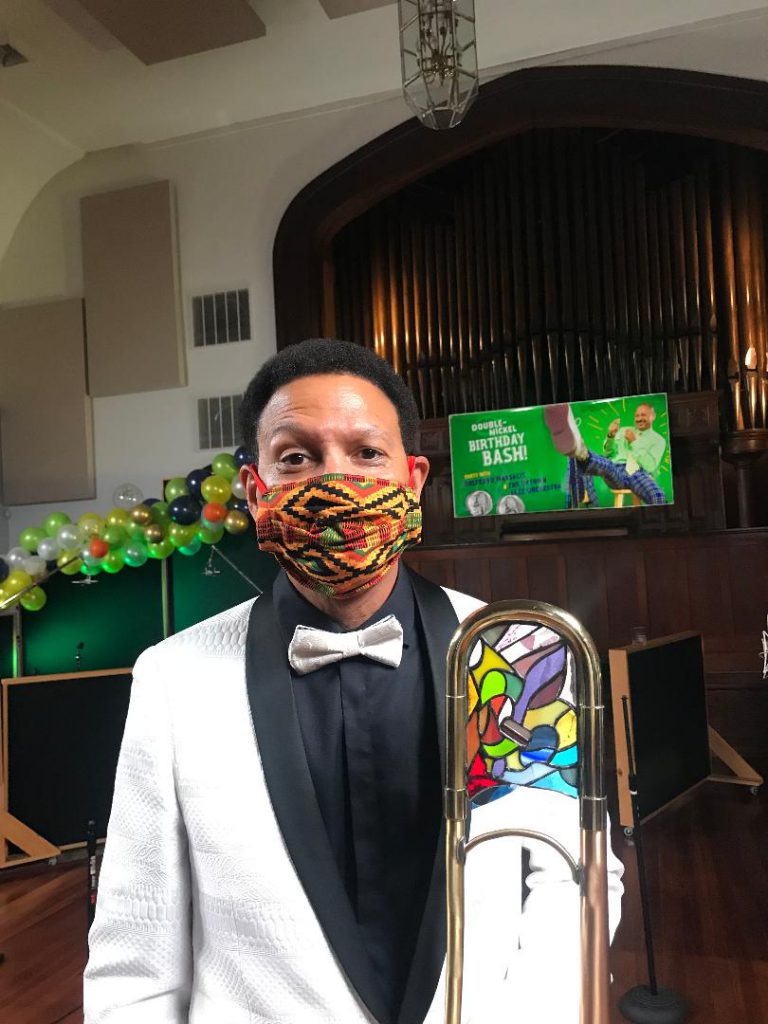 On a recent Sunday afternoon, trombonist Delfeayo Marsalis led his Uptown Jazz Orchestra in a live-streamed online concert—a "Double Nickel Birthday Bash," he called it, marking his turning 55 and, more importantly, the launch of the new non-profit organization he spearheaded in his hometown—Keep New Orleans Music Alive (KNOMA).
"My dad dedicated his life to growing and promoting New Orleans musicians," Marsalis said of the patriarch of his celebrated musical family, pianist and educator Ellis Marsalis, who succumbed to Covid-19 on April 1, at the age of 85. "Today, the global health pandemic presents a threat to New Orleans' culture bearers like none before."
Despite such a dire statement, Marsalis's band exuded joy more than anything else, as it has on Wednesday nights at the Snug Harbor club on Frenchmen Street—that is, until the lockdown came. The same can be said of "Jazz Party," Marsalis's seventh album as a leader. That suave and smart release showcased the tight big-band Delfeayo leads, including some the Crescent City's best players, exemplifying an approach to music that involves updating traditional New Orleans repertoire with modernist touches as well as playing modern-jazz classics in a hometown style aimed first and foremost, he says, "to make people happy." With his big-band, Marsalis revels in the culture in which he was raised yet also flashes adventurous urges.
Delfeayo and I talked on the phone recently about his new initiative, the legacy he inherited from his father and his city, and making people happy even in the direst of times.
Have you been in New Orleans through this whole pandemic?
Of course. Actually, I've only been away from the morning when I was attending Berklee College until I finished there. And then when I went to a university of Louisville for a couple of years.
And after the flood, in 2005, you left for a short while, right?
Oh yeah, I was, I was out from August through November, in Washington, DC, for about four months, other than coming back to try to check up on things.
When was the last time you performed in public?
That would have been at Snug Harbor, with my Uptown Orchestra. The exact date was March 11th, which was less than a week before everything shut down. And then I went to the hospital on March 15th, got diagnosed with COVID.
I want to offer my condolences on the loss of your father, Ellis. Like so many other people, I learned a lot from your father—a lot of stuff that I never would have learned. I was writing recently about the traditions around mourning and celebrating the spirit that are unique to New Orleans, and what it might mean to have to suspend these shared rituals. How does it affect you to not be able to do what musicians would typically do in your city in the wake of Ellis's passing?
Well, knowing that his personal preference would have been more in line with what we had, a small ceremony, made it easier for us. He was not a man of extremes or of excess. I asked him, I guess, a year or so ago, Man, what do you want us to say about you at your funeral?And he said, Man, I don't really care. I won't be able to hear it.And that was his perspective. Our parents try their best to prepare us for whatever comes up. But there's no way to prepare you for certain things. They can only prepare you to be prepared for whatever comes up. I'd say that my father was a realist, and his approach to things was always figuring out what was next, what's the plan? What are you going to do about it? That was a lot of the advice he would give. To prepare us to think and do for ourselves.
Is that the spirit you're carrying forward with this nonprofit initiative?
Oh, for sure. How can we make an impact? What can we do?
This pandemic raises some of the ghosts of the 2005 flood but is also very different. For someone like you, born and raised and steeped in New Orleans culture, what does this situation feel like and how does it relate to that past?
Well, the major differences are, this is global. And there are no answers, right? The fact that there are no answers is not so tragic to us because when Hurricane Katrina hit, there were no answers. So those of us who remember that were like,Oh yeah, okay. Been there, done that. Right.The bigger challenge is the uncertainty of it. With Katrina, the uncertainty was different because it's almost as though someone knocked your house down. You say, Okay, I got to rebuild my house. But this is like someone knocks your house down and then you start rebuilding and see, well, we might have to knock it down in six months and we might not. So you're like, Oh man, do I start trying to rebuild or do I just wait it out?But I'm optimistic because New Orleans music, the greatness of almost all New Orleans music, if it's authentic, is that it's uplifting and it's a celebration. I'm optimistic that once we are on the other side of this epidemic, and we will get there, the New Orleans musicians will know what to do.
To a certain extent is your culture built to help figure out what to do in trying times?
That's the Africanism of it. If anybody in the history of Mankind has been put into situations of uncertainty, it would be the Africans who made it to the American shores. We learn from how they were able to negotiate and improvise and maintain their sense of self and purpose and dignity while still fighting and combating that hatred with love and compassion. I mean, that's the true testimony. For me, this situation I find myself in is rather tame when compared to that.
Yet this pandemic is a clear and present threat to the culture you love, right?
Absolutely. The global health pandemic presents a threat to New Orleans culture like none before.
For someone who lived through post-Katrina period, that's deep thing to say. With this new organization intended to deal with that threat, what are you trying to accomplish?
Well, the main concern is just the viability for those individuals who are trying to keep lights on. The first objective is to bring together the community of musicians so that there's greater communication across the board. And the second part is to provide financial relief. It's a rather large task—larger than I imagined when I came up with the idea. But it's something that we feel is necessary.
We are modeling this somewhat after the Jazz Foundation of America, which does a great job. What they're doing is more comprehensive. Here, we have the website. We make the ask for donations. The musicians have to fill out an application. We're requesting a resume to authenticate who the musicians are. And then also a photo and a video of them playing either "The Saints" or "The Whoopin' Blues." And for the Mardi Gras Indians, they just have to present a video that best represents what they do. It could be playing tambourine, or it could be parading, or it could be just to show their suit and to talk a little about making it. The main focus will be the native New Orleanian. And then once they're taken care of, the folks who might've moved here after Katrina and become an integral part of the music community.
When I wrote recently about Ellis, after his passing, I took the occasion to really go back and dig into his early work. It's just so hip, such an alive and innovative moment. One curiosity I've always had about New Orleans is that moment in the 1960s—it was small, and it came and went, never fully connecting with what New Orleans continues to be about. That's something I talked Ellis about. Did he ever talk to you about the odd relationship between whatever we want to call "modern jazz" and New Orleans tradition?
 Yeah. On different occasions, mostly if I would ask a question. He felt that it was, it was important for him to embrace the New Orleans style as well as modern jazz. That had something to do with why he started playing with [Bob French's] Original Storyville Jazz Band.
…which was a terrific example of true, correctly played tradition music, blended with modern-jazz elements…
That's because that's how my dad grew up in that. You know, there are different trains of thought about that. If you're going to play the traditional style, you should play the traditional style and maybe have a certain type of rhythmic variation that would hint toward the modernity. But I'm of the belief that if it's done properly, you can have whatever harmony you want, whatever rhythm. What we are really trying to get to, especially with the Uptown Jazz Orchestra, is bringing all of those different sounds together.
I feel like that's what you do, but it's rare to have the musicianship and experience in one band to pull it off.
Well, that's again, the New Orleans experience, because these guys are not only playing right in the brass bands, but they're playing Top-40 gigs, where they have to know Earth, Wind & Fire or Bruno Mars. The great thing about New Orleans is the combination of the society aspect, the social aspect, and the jazz aspect. And for us, one is not any more important than the next and therein is the big difference.
I wonder if you remember, after Katrina, what was the first time you played back in New Orleans after that?
I do remember sitting in with my dad at Snug Harbor, on his Friday night gig. I didn't have a steady gig there at that point, but I remember that gig well because the electricity went out. We ended up playing it acoustically with candles lit.
I live and work in New York and, hey, it's killing musicians that they can't play in clubs and killing me that I can't hear them. But do you think it's fair to say that there's something about New Orleans life that makes this loss of spontaneously shared musical moments yet deeper?
Of course. Because New Orleans music, more so than in any other place, relies on the community, it relies on a community effort. That's a thing that you just know—like the hardest thing to find is a drummer who can play the New Orleans style who was not born or has not been to New Orleans. It's almost impossible to find. And it's not the technical demands of it. It's in understanding of how the people are. So the musicians in New Orleans just have that special ingredient.
What you're saying about drummers and about musicians is true, but isn't there also the other side of the equation, too—that so many people in all walks of life have a direct connection to that experience of music?
Yeah, that's true. But that mostly doesn't and can't exist right now. I mean, it just is not in the air right now. I have heard a couple of brass bands, maybe twice since the whole pandemic started. Some people have an event and they might bring in a brass band at the last minute, but it's not at all like it was.
Is that cultural connection we're talking about why you never moved away from New Orleans?
Oh, there was a number of reasons. The main reason I didn't move away was that I just couldn't find an apartment that I liked that I could afford in New York right after college. And then once I came back down here and started really playing, once I got into what I was doing, then it did not make sense to leave because I felt that I could have a certain impact here. As I have grown along with the community and as a part of the community, you know, it's not just like I could say, Okay, let's pack up and move to Boise. It's the life. That's why so many people come to New Orleans and they want to live here. It's like, Man, this is what this is? It's the original melting pot, and it's different from any other melting pot.
Wynton and Branford left New Orleans so early on. You and Jason remained in New Orleans. Do you think that's given you and Jason a different relationship with all the things we're talking about than your elder brothers?
For myself, certainly. Jason would have to speak for himself. But if you go back to my early music, which was heavily influenced by Branford's and Wynton's bands (in fact, both of their bands appeared on my first CD), it was coming straight out of the modern sound. Everything was in a minor key or mode. Whereas with the New Orleans style—which, as I referred to in the liner notes of my latest album, a fellow in Sweden referred to as "happy jazz"—the sound is the major key. And, you know, jazz took on a different function, I would say, after the Fifties. Instead of remaining a social music designed to lift up the audiences and the musicians, it became more introverted. And the relationship between the audience and the musician turned dramatically. What that means for me is that over the past 10 years, my style has changed to incorporate more of the New Orleans style, more of that extroverted sound. And that's the key. I would say for sure, if Branford or Wynton lived here and had to play consistently, their music would definitely change. But in New Orleans, we don't only need traditional music. We don't only need bebop. We don't only need modern jazz. What we're trying to work out is how do you bring as much of yourself to the music? And how can you use that to make people happy? And this is really where the New Orleans musicians have an unfair advantage because we play for people all the time. We play to make people happy.
As far as the relationship between the pandemic and the musicians, it's almost like our current president, because our current president is clearly the single worst and the single best thing that could have ever happened for America. The reason being that his actions and of those around him and of his administration has put us in a position where we are really going to address the democratic process as a nation differently than we ever have. He put us in a position where we have to really take this thing seriously. And, by the way, I don't see that at odds with making people happy.
After more than four months of this profound silence, how do you feel?
Well, I feel fine, really. My perspective is a little different than it might otherwise be because my experiences have been as a producer in addition to as a composer and as a musician. And as a producer, you have to see the overall picture of what's going on, more than just a specific. I see past this. It's unfortunate, but again, I see this as just like with Hurricane Katrina. There will be an end. It's just a question of when that end actually appears.
We just had a performance. We did a live stream with the Uptown Jazz Orchestra last month, and we're going to do another one this month. And just the spirit of that band reminded me of what I have to look forward to.
Do you remember what you hit with first?
My tune, "Put Your Right Foot Forward."
How did it feel when you dug into that?
Man, it was like a welcome home, like having a Sunday dinner with family. I felt welcomed, comfortable.