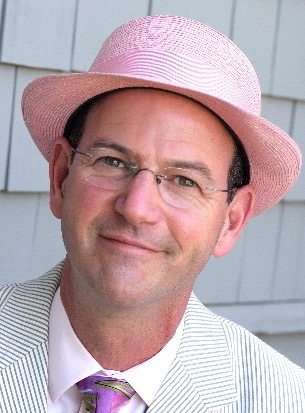 I met Dan Baum in 2006, in New Orleans. We were listening to John Boutté sing at the DBA club on Frenchmen Street, which was one of the more cathartic things one could do in that still-ravaged city at that time. Jacques Morial, one the city's great doer of good deeds and maker of especially wise introductions introduced us. Dan's first words, because I was there reporting with the support of a Katrina Media Fellowship, were pretty much, "So how much money did Open Society give you?" I didn't even know the guy. But Dan was an old-school reporter—straight to the facts, and why not?
I learned later that Dan was many things, first and foremost among these a writer's writer, a New Yorker writer in the best sense. Words and sentences and paragraphs and the integrity of a story mattered deeply to him, so it's no wonder that he married the person best equipped to hold him to the highest possible editorial standard, Margaret Knox.
As the two bicycled around the Marigny section of New Orleans, it was clear that theirs was something like a storybook romance wrapped around a perfect literary partnership. They rolled as one, ready for the next pothole or second-line parade, about which Dan would write with equivalent insight and detail. (His book about New Orleans, "Nine Lives," is indispensable and without category; my review of it is here.)
Dan was the only Jew I ever knew who looked utterly natural in a wide-brimmed hat from Meyer the Hatter, which he bought not long after moving to NOLA. Dan was also the most generous writer I've ever met. He offered me consistent and willing inspiration, and specific advice about the structure of a story, the arc of a career and the punctuation of a sentence (he would probably have had me recast this last one). Through his website, danbaum.com, he offered wisdom to writers he hadn't even met, with more depth and specificity than most graduate writing programs. (How often do you see rejected magazine story proposals and killed stories offered up as teachable moments?).
At that site, you can find all the evidence you'd need of Dan's deep and abiding love for words, for stories, for the wonderfully alive organisms that newspapers and magazines used to be, for the wonderful people that one can meet only New Orleans and, yes, even for guns. If you weren't lucky enough to have been on Dan's mailing list and to have received his "Third Act Trouble" installments (which would make for a riveting book) they're on the site, too. In these dispatches, you'll find reminiscences of how Dan fell in love with words and with the profession of writing, with his subjects and his stories, with Margaret and with their daughter, Rosa, how he stayed in love with his father Sy and his brother Andy, and how, while defying his medical prognosis for years, he showed us what it means to love life and to live well.