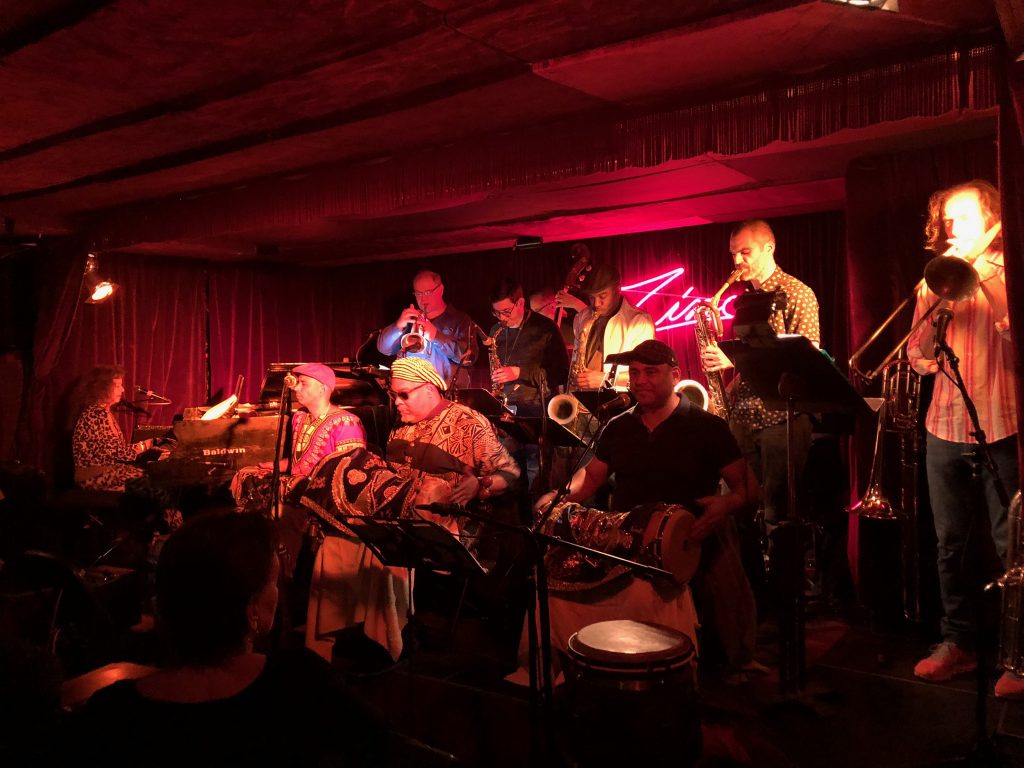 Standing on the tiny stage area of Manhattan's Zinc Bar, Michele Rosewoman's New-Yoruba ensemble was packed in tight. This is expansive music and yet it's also intimate. The musicians  were celebrating a new release, "Hallowed" (Advance Dance Disques)" but really they were extending a personal history that spans more than 30 years.  With "Oru de Oro," an extended work on the new release (sections of which were  played at the club), Rosewoman has scripted an exciting new chapter of this story.
New Yor-Uba sprung from Rosewoman's imagination, her immersion in Afro-Cuban tradition and her impressive technique as a pianist. These days, its beating heart is the trio of percussionists—Román Díaz, Mauricio Herrera, and Rafael Monteagudo —who mostly play batá (Díaz, in particular, is a singular fore and source). At Zinc Bar, its soul was Abraham Rodriguez, whose chants often changed the shape and direction of a given song.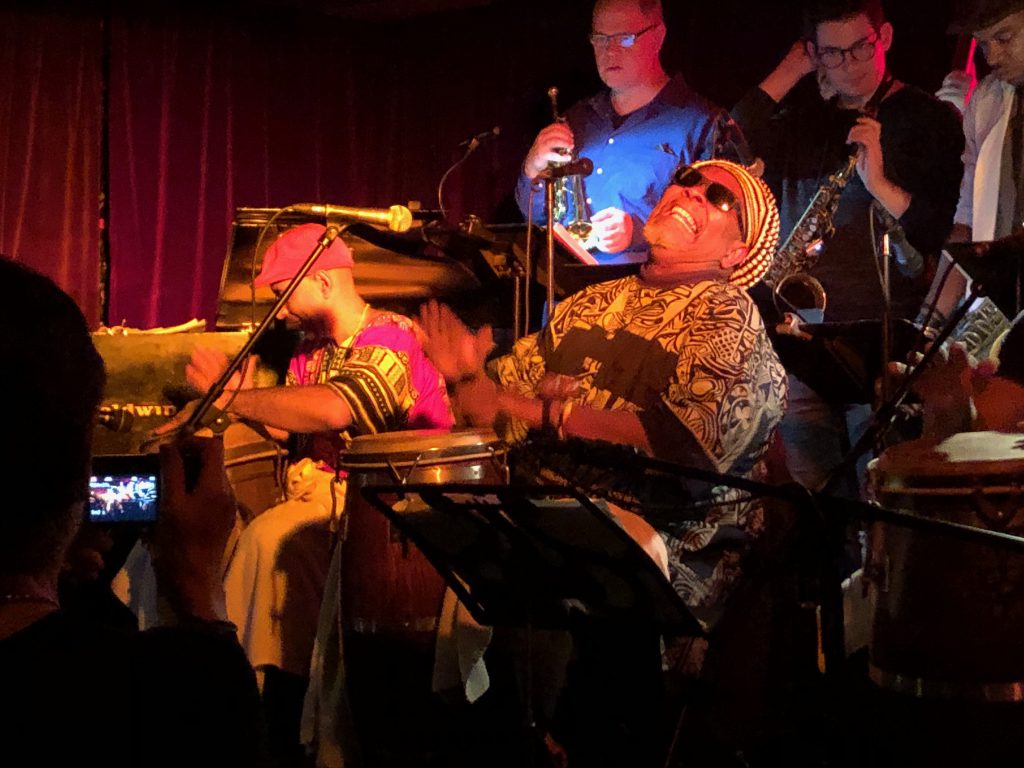 If there is a more satisfying group around—one with as compelling a blend of ancient and new, of earthiness and urbanity, of ritual music and jazz-based improvisation—please tell me about them.
I remember interviewing Rosewoman at her apartment for a Wall Street Journal feature, before she reconvened this group in 2013, and re-entered the studio .
"How do stories start?" she asked herself. And then she told me.
Below that is my Journal review of the resulting album, paired with a review of one by Pedrito Martinez.
(The links here may not work for you, but the full texts are here.)
THE WALL STREET JOURNAL
April 5, 2013
New York via West Africa via Cuba
Michele Rosewoman and New Yor-Uba Celebrate 30 Years
By LARRY BLUMENFELD
Thirty years have passed since Michele Rosewoman mounted "New Yor-Uba: A Musical Celebration of Cuba in America" at the Public Theater. Though that concert was half her lifetime ago—she turned 60 last month—she recalls it as if it were yesterday. Onstage at the piano, she was surrounded by 14 musicians who represented a rare union of free-thinkers drawn from New York jazz's top rank, such as saxophonist Oliver Lake, and masters of Afro-Cuban folklore including percussionist and singer Orlando "Puntilla" Ríos.
"You could see the horn players listening to the drummers with their mouths hanging open and the drummers staring at the horn players with wide eyes," Ms. Rosewoman said at the Lower East Side apartment she's called home since settling in the city in 1978. "The musicians had never heard anything like it."
She glanced at the Steinway grand piano dominating her living room. Beside it stood three conga drums. These instruments, which she has mastered, denote her music's roots.
Even in a Manhattan then buzzing with fresh iterations of jazz and renewed Afro-Cuban influence, New Yor-Uba was startling for its balance of unfettered improvisation and undiluted Cuban folklore within a complex and often grand structure. It carried both stylistic swagger and spiritual heft. Especially noteworthy was Ms. Rosewoman's use of batá, the two-headed drums associated with religious ceremonies, of which Mr. Ríos was an acknowledged master. Her pianism was equally distinct. In "Latin Jazz: The First of the Fusions," author John Storm Roberts recalled it as "the first purely jazz playing I've heard that meshed with Latin rhythms instead of riding above them."
Ms. Rosewoman's 1996 album, "Spirit," presented a standard piano-trio setup; her quintet, through which several noteworthy players have passed, evolved in brilliant and unconventional fashion across five albums. Yet the large ensemble remains her centerpiece—though, curiously, unrecorded. That situation will be remedied. Three days after New Yor-Uba celebrates its 30th anniversary at Brooklyn's Roulette on Friday, it will head into the studio to make a debut recording.
"How do stories start?" Ms. Rosewoman asked while considering her overlapping influences. Hers begins in Oakland, Calif., surrounded by music—not least because her parents owned a record shop. She began playing piano at age 6. After high school, pianist and organist Ed Kelly taught her jazz "the old-school way," she said. Soon after, she began studying Afro-Cuban percussion. She felt drawn to these ritual traditions as powerfully as to jazz; they both felt natural. "But they were still parallel worlds."
In the Bay Area, Ms. Rosewoman's conception of jazz expanded through association with trumpeter Baikida Carroll, who would play in the original New Yor-Uba. Once in New York, she straddled two worlds. Her first live performance here was in a jazz ensemble led by Mr. Carroll; her earliest recording session, with the Cuban songo group Los Kimy. Yet separate worlds converged in her mind.
"I literally dreamed about these folkloric, spiritually powerful songs in a contemporary jazz setting. I thought, 'What? How?' I needed to work it out."
At the Manhattan club Soundscape, she met Mr. Ríos, who'd arrived in New York from Cuba in 1980 and would be her most profound mentor. It's hard to overstate Mr. Rios's impact here in building a community around the West African traditions, transmitted via Cuba, of the Yoruba people and then-less-known rituals such as arará (from the former kingdom of Dahomey).
"He understood that I needed certain information to do what I wanted to do," she said, "and I found myself welcomed into another world." New Yor-Uba was, in one sense, a celebration of Mr. Ríos's eminence.
Mr. Ríos's death in 2008 was a turning point for New Yor-Uba. The current group includes two original members, Mr. Lake and tuba player/baritone saxophonist Howard Johnson. Younger members, such as percussionist Pedrito Martinez and drummer Adam Cruz, reflect, Ms. Rosewoman said, "what's different today: fluency in both jazz and Afro-Cuban languages, which opens new possibilities."
She is now a mentor herself. Mr. Martinez played his first U.S. tour with her after moving from Cuba. "I'd never heard anyone combine Yoruba and jazz that way," he said. "I thought, 'This is why I came here.'"
Drummer Tyshawn Sorey, who has both studied and worked with her, said that "she taught me how to express musicality from the drums."
Her continued growth as a jazz musician and immersion in Afro-Cuban spiritual practice has revealed a key to the unity of her dreams: mystery. "Jazz is a world of extending and expanding tradition," she said. "The rhythmic traditions of Cuba are about maintaining tradition. But the idea of obscuring things seems fundamental to both. The idea is to know something so well that you don't have to state it."
Mr. Blumenfeld writes about jazz for the Journal. He also blogs at blogs.artinfo.com/blunotes.
http://online.wsj.com/news/articles/SB10001424052702304561004579135951373071512
THE WALL STREET JOURNAL
Oct. 17, 2013
Two Afro-Cuban Offshoots
New CDs from Michele Rosewoman and Pedrito Martinez
 By LARRY BLUMENFELD
Soon after pianist Michele Rosewoman moved from Oakland, Calif., to New York in 1978, she felt her parallel musical paths—jazz and Afro-Cuban folklore—merge into a compelling whole. Once percussionist Pedrito Martinez arrived in Union City, N.J., in 1998, he found widespread demand for the rhythms and chants he'd mastered in Havana's Cayo Hueso neighborhood; he began crafting his own musical style, grounded in the Afro-Cuban religious and rumba traditions of his childhood, and influenced by the best players he met in New York.
Two striking new CDs from these musicians showcase possibilities for music built upon Afro-Cuban tradition, informed by jazz, and realized through personal discovery. "Michele Rosewoman's New Yor-Uba: A Musical Celebration of Cuba in America"(Advance Dance Disques) is the debut recording of a project the pianist created 30 years ago. "The Pedrito Martinez Group"(Motéma Music) is the first studio CD from Mr. Martinez, who is a key member of Ms. Rosewoman's group, and whose wildly original quartet demands its own spotlight.
Ms. Rosewoman, 60, first presented her 14-piece New Yor-Uba at Manhattan's Public Theater in 1983. Then as now, it was startling for its balance of unfettered improvisation and undiluted Cuban folklore, and especially its use of batá, the two-headed drums associated with Yoruba religious ceremonies. Ms. Rosewoman's compositions, based on chants and rhythms, grew from her studies with Orlando "Puntilla" Ríos, a Cuban percussionist whose arrival in New York in 1980 had profound impact, and who died in 2008. Yet the music also reflects an open-minded jazz tradition Ms. Rosewoman absorbed from musicians such as alto saxophonist Oliver Lake and tuba player Howard Johnson, both New Yor-Uba members since its start.
Time has benefited Ms. Rosewoman's ideas. Her 1983 group bridged two distinct communities. The current edition includes musicians, such as bassist Yunior Terry and drummer Adam Cruz, drawn from a generation fluent in both jazz and Afro-Cuban dialects. The new recording highlights stirring details—especially the interplay of the group's three percussionists. The music sounds like something very old, which it contains, and something still evolving, which it is. Sometimes it achieves moments of pure and novel pleasure, as on "Where Water Meets Sky (Yemaya)," when horn improvisations float above chants, only to dissolve into the accelerating fury of batá drumming.
Even within New Yor-Uba's collective statement, Mr. Martinez stands out for both his agility as a percussionist and his voice, which sounds simultaneously searing and comforting. Since moving to the U.S., Mr. Martinez, now 40, has recorded and performed with fellow Cuban musicians, jazz players and pop stars, including Paul Simon and Sting. On the recent CD "Rumba de la Isla" (Calle 54), featuring an all-star cast, he transformed the legacy of the Spanish flamenco singer Camarón de la Isla into something distinctly original, and Cuban.
Yet Mr. Martinez's true identity and full collaborative powers are best revealed by the quartet he's honed since 2008 through his three-nights-a-week residency at the midtown Manhattan Cuban restaurant Guantanamera. The band's members all sing, often in four-part harmony. Bassist Alvaro Benavides and Jhair Sala, who plays cowbell and bongos, share a startlingly intuitive rapport with Mr. Martinez. Ariacne Trujillo's piano playing blends Cuban conservatory training and modern-jazz literacy, and she sings a persuasive blues; in another group, she might be the standout. Playing conga drums, cajón(a wooden box drum) and sometimes batá, Mr. Martinez is the group's rhythmic engine and most daring soloist. For him, mastery begets reinvention. He personalizes the guaguancórhythm of the heroic rumba group Los Muñequitos de Matanzas on "Lengua de Obbara," updates the songorhythm of the pioneering Cuban dance band Los Van Van with his composition "Conciencia," and finds Afro-Cuban soul within Robert Johnson's "Traveling Riverside Blues." Yet his references and rhythms are mostly woven within musical blends too complex to define.
The Guantanamera gig is a magnet for local musicians and visiting stars, including those featured on the CD (among others, trumpeter Wynton Marsalis and drummer Steve Gadd ). They're drawn by word of Mr. Martinez's preternatural skills. They keep returning for this group's dizzying rhythmic webs, its songs within songs, and the thrill of real Cuban rumba transformed into something as hip and irresistible as great pop. Physical talents notwithstanding, Mr. Martinez's most potent gifts may be his ideas.