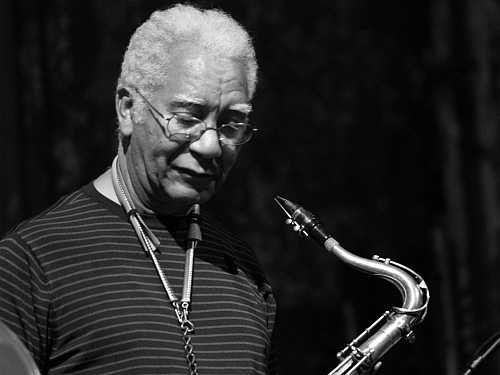 Though I could not make it down to New Orleans for the event, by all accounts  "Honoring the Kidd," a  musical tribute to saxophonist Kidd Jordan  presented by the New Orleans Jazz Museum in partnership with the Ruth U. Fertel Foundation, was a great success.
I'm glad my words, as part of the printed program, made the scene.
They were drawn from a piece I did for Artinfo. The full text is below.
Kidd Stays in the Picture
Saxophonist Kidd Jordan Gets His Hero's Due
By Larry Blumenfeld
"We've got a pretty good crowd," tenor saxophonist Kidd Jordan said from the stage of the jazz tent at the New Orleans Jazz & Heritage Festival on Friday. "Let's see how many of you are left at the end." He offered a bit of instruction. "For those of you who aren't used to this music, I want to tell you: This is purely improvisational music."
He then performed a mostly unbroken suite that moved from meditative calm to furious squalls, deep blues feeling to more abstract expression. He fell briefly into melody—"Sometimes I Feel Like a Motherless Child," at one point—and alluded to John Coltrane with one pointed passage, but otherwise generated his own formless ebb and flow. Pianist Joel Futterman, bassist William Parker, drummer Alvin Fielder and Jordan's nephew, Maynard Chatters, Jr., who sometimes handled the innards of an upright piano as if it were a harp, all played with distinction yet served chiefly to construct and contort the web of sound and rhythm that enabled a single vision—Jordan's.
The saxophonist's self-deprecating introduction acknowledged two truths: first, that freely improvised jazz is a hard sell at jazzfest, and in general throughout Jordan's hometown of New Orleans (even in New York, its locus point, this music is a rarefied thing, separate from the bustle and business of mainstream jazz); and second, that Jordan will do what he will do, and nothing but.
What he does sounds both poetic and heroic. It's rare too, in that Jordan has during the course of decades arrived at a sound and a language distinct enough to attract adherents but not copycats. Simply put, no one sounds even remotely like him.
In 2008, during a pre-concert discussion at New York's annual Vision Festival, poet Kalamu ya Salaam asked Jordan, "Why don't you just play more popular music and make more money?" Jordan didn't blink. He felt something stir deep down inside, he said. He just had to let it out. Simple as that.
In New Orleans, where he's lived most of his life, Jordan once played all sorts of commercially viable stuff: seminal 1950s r&b alongside Art and Aaron Neville in the Hawkettes, Broadway scores for touring productions, session work and gigs with everyone from Ray Charles to Aretha Franklin, Stevie Wonder. But he found his sound elsewhere. It's been some 50 years since a friend played him Ornette Coleman's "Something Else!!!!," and Jordan has felt emboldened to follow his own utterly unfettered path ever since. He found yet more inspiration in John Coltrane's expansive music. That music activated something for him. He never wanted to sound like either Coleman or Coltrane, and he doesn't. "But I want to express their essence," he said. He does, enamored of his instrument's altissimo overtone range and still, at 77, as soulful as when he played r&b.
At that Vision Festival, Jordan got a true hero's welcome: a night in his honor, billed as a Lifetime Achievement Award, centered on his music. New York City had been hit with an early heat wave. The ventilation at the Clemente Soto Vélez Center, which housed Vision Fest for five nights, offered no relief. Still, then 73, Jordan spent nearly five hours onstage, playing in his customary, somewhat relentless style, squeezing out upper-register overtones for long stretches, never losing tight yet joyful focus. He laid out for just one set, when his sons—trumpeter Marlon and flutist Kent—fronted a sextet for in-the-pocket, post-bop tunes (which, at the Vision Fest, amounts to a radical gesture). Otherwise, Kidd never let up, reveling in the company of favorite collaborators: veering toward spirituals with baritone saxophonist Hamiet Bluiett, exploring upper-register pitches with violinist Billy Bang, losing himself in rumbling communion with Futterman, conversing in code with fellow tenorist Fred Anderson, and ducking in and out of ever-shifting grooves dug by Parker and drummer Hamid Drake. (Jordan's 2006 recording, "Palm of Soul," with Parker and Drake, recorded a month after the devastation that followed Hurricane Katrina, is both a poignant document of pain and transcendence in chilling moment and a timeless model of compassionate, exalted musical communication in any context.)
In New Orleans, Jordan would be a jazz hero even had he stopped playing decades ago. He has run the Jazz and Heritage Foundation School of Music, the Jazz Studies program at Southern University of New Orleans, and the Louis Armstrong Jazz Camp.
Now his hero status is official. On Tuesday, he stood at Café Istanbul before an admiring crowd of friends and colleagues—among them, drummer Smokey Johnson, one of his earliest associates—and was named in the inaugural class of recipients of the Jazz Journalists Association "Jazz Hero" awards.
These honorees are "activists, advocates, altruists, aiders and abettors of jazz who have had significant impact in their local communities," stated the JJA citation, which went on to explain, "Mr. Jordan was selected by members of the New Orleans JJA based on his career-spanning dedication to expanding the horizons of the music itself, and educating the next generation of musicians—both in fundamentals and in the essential risk-taking spirit of the art form." The moment served also to announce a newly formed New Orleans chapter of the JJA. In describing its mission, writer John Swenson said, "If we are writing about New Orleans music in a broad sense it's impossible not to be a jazz journalist."
Anyone under, say, 50, who plays jazz in New Orleans is likely to have been touched deeply and lastingly by Jordan as educator. Jackie Harris, who founded the Armstrong camp, among those on hand to honor Jordan, spoke of him first and foremost as "a great father and wonderful family man." She noted that Jordan's three children—singer Stephanie, in addition to Marlon and Kent—are all professional musicians. "At Jazz Camp," she said, "everyone's afraid of him until they get to know him."
"I'm a taskmaster," Jordan said from the stage at one point, by then well into a speech that unfurled much like one of his performances—long and flowing, by turns, full of tender asides and bold declarations, rich with digressions yet always clearly stated. "I don't have anything prepared," he said to begin, "but I live by improvisation." He talked about early inspiration from saxophonist Illinois Jacquet, and about a night listening in a Detroit club when the patrons didn't outnumber the members of Coltrane's quartet. He recalled attending Southern University, where he briefly took up clarinet when he was told that saxophone "wasn't a legitimate instrument." He drew a distinction between the idea of improvisation in terms of simply playing a solo and that of improvisation as credo. He related the spiritual and ineffable aspects of influence he drew from his heroes, but stressed the fact that he had practiced for five hours that day, and that he hoped to the same the next day. He talked about the need for proficiency on a given instrument and the value of trained and open ears as the keys for an improvising musician. "This is a listening music," he said.
He grew most animated when he said this: "If you want to be a star, that's one thing. But if you want to be a musician, you've got to be on a specific route and stick with it."
Jordan has stuck with it. He's pushed others to stick, too. All that has made him a star, still shining bright.