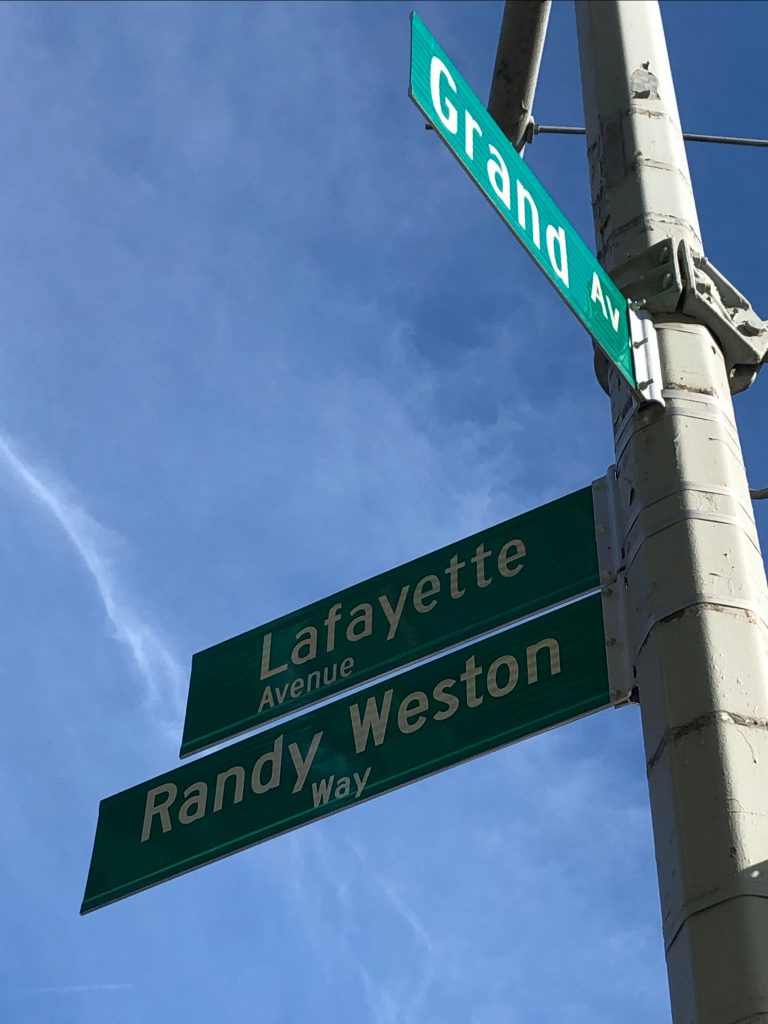 The spot where Grand Avenue hits Lafayette Avenue—where Brooklyn meets Africa, in many respects—is now "Randy Weston Way."
And that's the way it should be. Randy Weston had a way of playing the piano, bold yet relaxed, in the moment yet overflowing with timeless wisdom. He had that same way when he sat there with you at his home on Lafayette Avenue and talked about life in Brooklyn, in Africa, in music or in general.
At Sunday's street naming ceremony, a bright sun shone on Randy's widow, Fatou, and a gathering of Randy's literal and figurative families. Had he been there, Weston, who died last September at 92, wouldn't have been the oldest musician present (percussionist Cándido Camero, who is 98, took that honor). He wouldn't have been the only pianist present—among others, Monty Alexander and Rodney Kendrick, who each performed on an upright, out on the street. Among the speakers, brilliant writers (including Robin Kelley and Ishmael Reed) and a bevy of local politicians echoed Weston's lifelong themes of a transcendent African identity, personal empowerment, jazz's spiritual heft and the joy of living.
Here's my remembrance of Weston, as it appeared on the last page of the Winter 2018 edition of Jazziz magazine.
A Master's Last Class
By Larry Blumenfeld
Thirty years ago, when I worked at Columbia University, I would often walk a few blocks from my office to the cavernous Cathedral of Saint John the Divine. I liked its massive scale, its wondrous architecture and, most of all, its deep quiet. I was a young man then, just out of college and trying to make sense of things I had yet to grasp. I didn't enter that cathedral as a religious adherent. I sought solace, calm and, vaguely, spiritual guidance.
I spent five hours there on Monday, September 10, at the "Home-Going" service for pianist Randy Weston, who had died unexpectedly and peacefully at his Brooklyn home nine days earlier, at 92. This time my wife and son were by my side. The place was anything but quiet. There was a crowd of more than 1,000 people, dotted with notable musicians, some of whom, like saxophonist Billy Harper and bassist Alex Blake, had played with Weston through many years. There were artists and writers, professors and dignitaries. There were elderly men and women, some in beautiful African garb, and babies in parents' arms.
Before the formal service, there was a viewing. There, in an open casket, Weston — all 6'7" of him — was laid out in a Nigerian cap and matching clothes of his favorite color, blue, embellished with silver embroidery. He looked as peaceful and strong as he had all those years at the piano, where he had balanced delicate lyricism and crashing power. Right up until
the end, his playing lost neither force nor focus. His compositions were mostly blues-based incantations, alluring for their accessible themes and distinctive for dissonant tone clusters reminiscent of Thelonious Monk, perhaps his most significant mentor. Always in Weston's compositions, there was a feeling of reverence.
Ten feet from Weston's casket was a baby grand piano — Duke Ellington's practice instrument, on permanent display. The second of Ellington's Three Sacred Concerts was premiered at the Cathedral in 1968; his funeral was held there, too, in 1974. In the liner notes to Weston's 1989 recording Portraits of Duke Ellington, he wrote about trying find the notes in-between notes — a distinctly African approach to the piano, and something he first recognized in Monk's music. "Ellington had been doing it all the while — before Monk, before me, before any of us," he wrote. "With Duke, I rediscovered Monk, rediscovered the piano, and rediscovered myself. From him, I learned commitment. I also learned the importance of the blues. I learned that the world is one."
That sense of a unified world — tinged with blues, fortified by commitment, bent on rediscovery — was nearly palpable at the cathedral. In addition to Weston's monumental musical achievements, he sought, on and off the bandstand, to honor the greatness and primacy of African civilizations, from antiquity to the present day. In his autobiography, written with Willard Jenkins, he explained: "When a person is touched by African music, from his skin to his soul, that person has become Africanized. Perhaps this is the true meaning of universal — something seemingly foreign that touches you and reminds you of your deepest self."
A gold plaque affixed to Weston's open casket was engraved with his name, the dates on which he was born and died, and the words "African Rhythms." His home-going began and ended with Weston's longtime percussionist, Neil Clarke, leading a procession of drummers through the cathedral. Their beats resonated throughout the vast space with spine-tingling power.
One by one, speakers — drawn from Weston's family and circle of professional colleagues, from many walks of cultural and scholarly life, and from various nations — spoke not just of his worldly accomplishments but of his direct and intimate influence. More than one sentence began with, "Randy didn't have to do this, but…" and ended with "…that's how he changed my life." I, too, was privileged to know Randy Weston beyond his music. I sat with him in Brooklyn; traveled with him to Cuba, Panama and Morocco; talked with him at length about music and history, food and basketball and raising families. Now, decades later, he brought me back to this cathedral and delivered some of that peace, that calm, that sense of direction I'd sought long ago. One last gift from the most generous human being I've ever met.