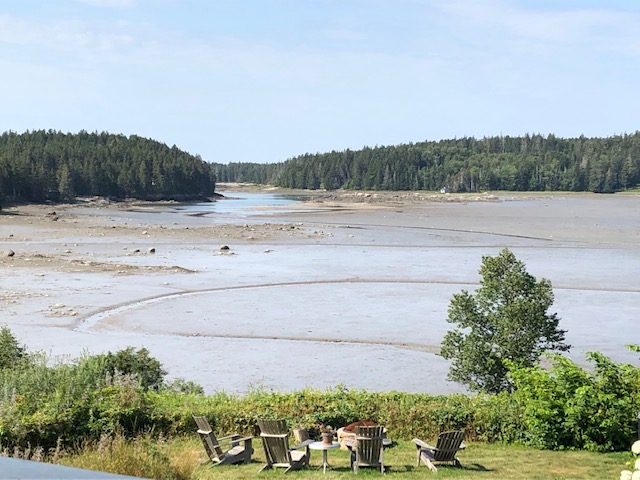 On Deer Isle, in Down East Maine, the rhythms of life are dictated mostly by tidal coves that fill and empty twice each day, within which the water traces particular grooves that deepen over time.
That's one of many reasons why the idea of a jazz festival made sense to me 19 years ago, and still does. (For more on that history, go here.)
I ended Friday night at Rich and Mary Howe's art-filled home, playing dominoes with clarinetist/saxophonist Don Byron and pianist Aruán Ortiz. Byron had brought a set in a small satchel (and the boy from Brooklyn, new to the game, won!) Earlier that night, Byron and Ortiz, playing in duet, deepened the distinctive groove they found on their recent and wonderful release, "Random Dances and (A)tonalities," for which Ortiz had asked me to write a liner note.
I started Saturday by making and eating bacon and eggs in a small cabin with drummer Jimmy Cobb, while we watched boxer Hector Camacho's 1992 loss to Julio César Chávez, as streamed on Cobb's phone. Later that night, Cobb, who recently turned 90, displayed a mastery over grooves that has extended through much of jazz's history, and remains undiminished. At the Stonington Opera House, to close the 19thannual Deer Isle Jazz Festival, he anchored a buoyant set by pianist Emmet Cohen's trio, including bassist Alexander Claffy (you can hear that group on Cohen's "Masters Legacy Series, Volume 1" recording).
And, yes, there was much lobster—as fresh as the renditions of Duke Ellington's "Black and Tan Fantasy," played by Byron and Ortiz Friday night, and "Two Bass Hit," from Cohen's trio the next night.
That cove you see above was full by the time I started by drive back to Brooklyn. Nineteen years is a long time or just a minute (just ask Cobb). Emptiness comes and goes, in life, but so does this sense of fullness.