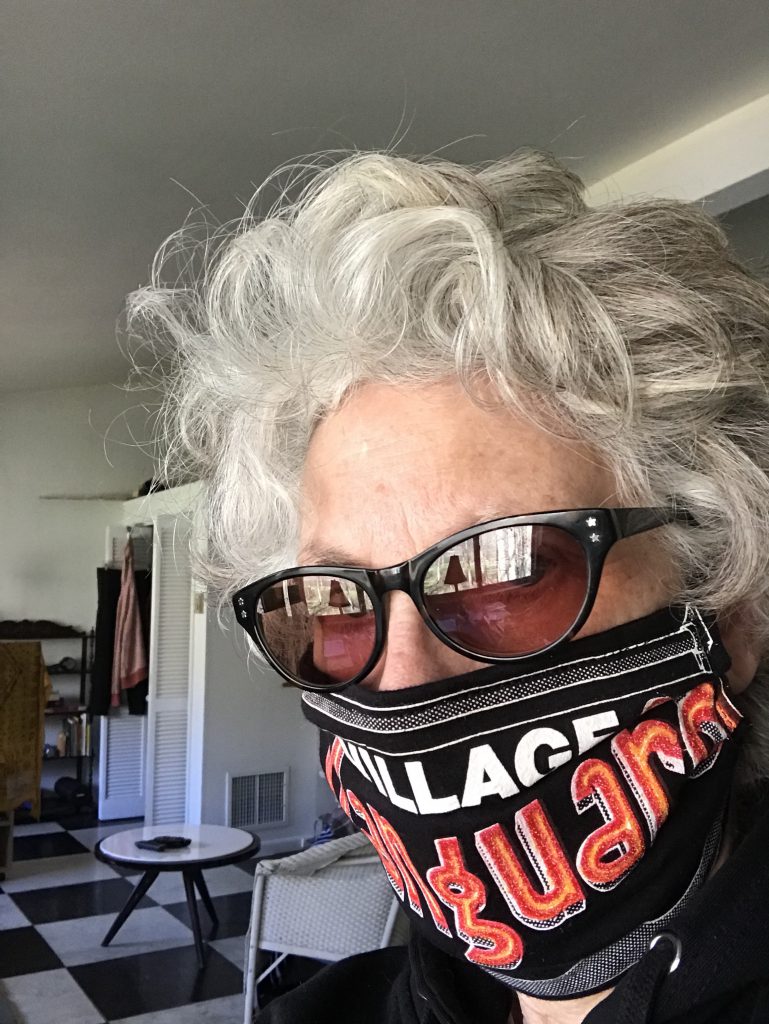 A decade ago, I interviewed Lorraine Gordon, the owner and proprietor of the Village Vanguard, New York City's best and longest-running jazz venue, about the club's 75th anniversary.
Lorraine, a forceful presence at the club and in jazz in general throughout her life, had assumed the club's reins in 1989, after the sudden death of her husband, Max Gordon, who founded the club. Lorraine told me:
"I like the coziness of the room when it's full, when the people seem happy and they're at one with the artist. There's just a certain feeling you get because it's small enough to reach out, and back and forth between the audience and the artists. So, that's a palpable feeling: I feel it myself when I sit in the corner, and I see everybody's face is absolutely glued to the stage. It's like a painting but it's real life, every night."
Those words have a special resonance right now—tinged with longing, two months since the club closed its doors due to the COVID-19 crisis.
The only other time I've experienced the Vanguard's red double doors shut when they should be open was after the attacks of Sept. 11, 2001. Yet even then, three nights later, Tommy Flanagan was at the club's piano.
Deborah Gordon—Max and Lorraine's daughter—began working at the club in 1989. She worked closely with her mother running the club until Lorraine's death, at 95, in 2018, when she took over full time.  When Deborah spoke to me from the house in Pennsylvania she and Lorraine bought nearly 20 years ago, the club had been closed for more than two months.
I can't believe that I can't see you at the club right now…
Yes, it's still a lot for me to wrap my head around.
Who was the last artist to perform at the Vanguard before you closed the doors?
[Guitarist] Peter Bernstein. He had [pianist] Sullivan Fortner, [bassist]Doug Weiss and [drummer] Joe Farnsworth in the band. We went through the Sunday, March 15th, we finished the week, and then we closed on Monday. This was before any kind of closure edict came down from the mayor or the governor. But the handwriting was on the wall.
How did it feel to have to shut down?
Let me see if I can think of some appropriate adjectives to answer that question. I remember Jed [Eisenman, the club's longtime general manager] being so clear about it. He had no doubt, in terms of that this was happening and that we had to close the place. I didn't get it as strongly as he did at first, or maybe I didn't want to. But I didn't argue with him or anything. I just said, "What do you mean a month? What are you, crazy?" I guess I knew we had to close, but I couldn't get a sense of any time frame, and a month sounded very long. Now, look at where we are.
I know what you mean. One thing that is very different about this experience as compared to other traumas or crises is that it's so open-ended…
It's open-ended, and the end gets longer and longer. Also, without any leadership, you know, you're left rudderless. There is no real sense of process or clarity. I mean, I guess we've gotten some from Cuomo, thank god.
Other than following 9/11, has the Vanguard been closed for any appreciable period of time?
Yes, actually, at various times the club was closed but I can't quite figure out why. I can remember thumbing through the listings book. There didn't seem to be any rhyme or reason. I don't know, maybe Max didn't have the money to pay Con Ed. The longest period was a month, I think. But that was decades ago.
When the club reopened after 9/11, what was that like for you?
[After a long pause.] We just always kind of get back up and running, following 9/11 or anything. Listen, think about what the Vanguard has been through historically in terms of events like this. The country was just coming out of Prohibition when it opened. Actually, in the original Vanguard spot on Charles Street, it was still Prohibition. It got closed. Some waitress got caught trying to sell booze to an undercover cop. You know, there's a long list of travesties. This one seems like the sum of all of them because, as you said, there's no real end in sight. It's so devastating. The suffering is just so unimaginable. And we may just be at the beginning, we don't know.
Is the Vanguard's space rented?
Yeah. We have a lease with some time left on it. We have a very good relationship with out landlord.
Did you apply for loans?
Yeah. Of course, Right away. Finally—after many weeks of paperwork and calls to my lending institution, all of a sudden, without any notice, the money finally just showed up. So that helps.
You know, I really didn't want this to happen on my watch, that's for sure. I'd been thinking and researching a lot lately about the history of this room, of the Vanguard. Whenever I think about everything that has passed through here, it has always seemed so interesting and so celebratory. Now, this is casting everything in a very different light. I can't quite wrap my head around it. It's made it difficult to think about it, maybe because there is the possibility of an end.
And that's a new feeling, right?
Yes, before it all always felt so endless.
This club has been a fixture throughout your life. It's part of your family. And at some point, it became your job. That must have changed things, right?
February was the 85thanniversary of the club. I started working there in 1989, when my father died. When Lorraine died, I'd been there a long time already. And, yes, that definitely changed things. That feeling of, you know, the protective layer, of having some remove. It's been difficult in a lot of ways to run this place, but also eye-opening and revelatory in certain ways.
Certainly, my father never thought I would work here. But I remember things he said and wrote in his book that now make much more sense to me.
Like what?
"Never say you own the place," he used to say. "The place owns you." I get it now. I was always free to walk away, to change my mind. I was always free not to take responsibility for certain things. You know. Now, I'm owned completely. It's a very different feeling.
But is it also a loving sense of servitude?
Oh, sure. Of course. The place means everything to me.
One thing the Village Vanguard has meant to me is a point of continuity between a past I didn't live and the culture I have lived for 30-plus years. And I don't mean that just in terms of staying in business, though that alone is a big deal. I mean in terms of how the Vanguard has embraced change in the music and the culture without compromising the club's legacy.
Yes, and a lot of what sustained it to the present you have to attribute to my mother. She was pretty adventurous in a lot of ways, and definitely in her listening. And Max was, too.
Today, I love having John Zorn one week and Barry Harris the next. Then you're embracing everything as much as one little place can. Within the 52 weeks that you get each year, I think you try to stretch your arms around as much as you possibly can.
One of the things that really hurt in terms of all the weeks we had to cancel was the pianist Kris Davis. Her week was just coming up. It was a big thing. She had a great group. It meant something important to her, and to us.
Yes, I've written about that terrific album of hers, "Diatom Ribbons," and I was curious to hear what that group, with its mixture of acoustic instruments and electronics, would sound like in the club.
Me too. We were all looking forward to that.
You know, there has been such a groundswell of interest in Kris lately, especially following that release, that her week seemed like it had the makings of a real event—and in the best possible place, in terms of a jazz event.
Those moments you're talking about—that's about being a particular space in that moment, and sharing that experience.
I suppose we're all missing that feeling. Do you wonder whether we'll recapture that feeling—that, after this crisis lifts, audiences will come back?
 It will be a long time. And, yes, I do wonder. But they will come back.
In the meantime, we are about to begin streaming music live from the club.
Wow, that's exciting!
Yes, it's an adventure I never planned on taking. I know that not everyone will be willing to come to the club, and of course some musicians are not in New York City and can't or won't travel, but we're going to do what we can.
How will that work?
It's going to be music, live from the Vanguard. We'll start on June 13 and 14. Saturday should be an evening stream, I'm not sure of the time yet. But not too late, maybe 7 or 8. Sunday, we'll do a matinee at 3. The first band will be [drummer] Billy Hart's quartet [with pianist Ethan Iverson, bassist Ben Street and saxophonist Mark Turner].
Who will handle the streaming?
My main technical wizard is Michael Larson. He's worked at the Vanguard for many years. At the Vanguard, everybody sort of does everything, wears multiple hats. He's been a manager. He's also what you'd call the plant manager. He keeps all the leaks plugged up. That man can build or fix anything. He's literally kept the place pieced together. He moved us up a notch from using a roll of tape for everything. We couldn't have done it without him. He purchased equipment, contracted a streaming service. When he talks to me about that, I glaze over, take a little nap. But he's got it covered.
These streaming services have a ticket mechanism. I haven't decided the price yet, but it will be significantly less than what it costs to come to the Vanguard. I hope to have a little bit of surrounding material so that you're not just straight-up performance. This is new for all of us. It's all new territory. After Billy Hart, the next one will be [pianist] Vijay Iyer.
Does this series of streamed performances have a title yet?
No. You want to make one up?
Hmm… Maybe "The Basement Tapes"?
I think that's taken. I don't know… It's just "Streaming Live from the Village Vanguard," I guess…
Wait! You should call it "Streamin'" —with the apostrophe— like "Steamin' with the Miles Davis Quintet"
Yeah, that sounds good, actually. Maybe we'll use that.
Yeah, you can make it look like an LP cover. Well, this is big and welcome news. And it will mean that the Vanguard is paying musicians, bringing music to jazz fans and, I would hope, staying afloat…
Yes, all of those things. Of course, it's just a temporary stopgap measure. But I'm warming up to it. I'm kind of getting used to it.
But we don't want to get too used to it, right?
Right.