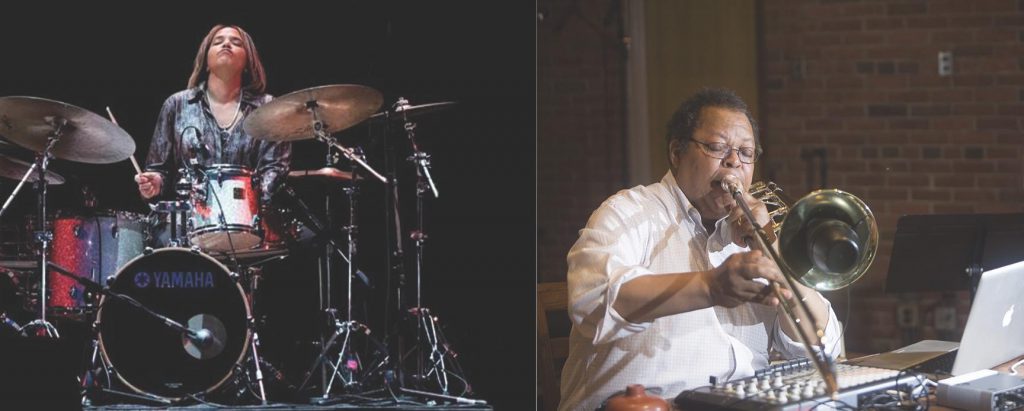 In announcing the names of the 2019 Doris Duke Artists, the Doris Duke Charitable Foundation has singled out two musicians who have helped changed the current landscape for jazz, as well as jazz's place within a larger cultural context: trombonist-composer George Lewis and drummer-composer-producer Terri Lyne Carrington.
Through his own music and that of the many composers he has mentored, Lewis has helped foster a sense of composition that defies customary borders between jazz, classical and folk music, and between composition and improvisation. Carrington, the first female musician to win a Grammy Award for Best Jazz Instrumental Album, has, through a career that began when she was 10 years old, consistently broken barriers. Both musicians are also forceful educators—Lewis as Edwin H. Case Professor of American Music at Columbia University, and Carrington as founder and Artistic Director of the Berklee Institute of Jazz and Gender Justice.
Lewis and Carrington join a 2019 class that also includes Donald Byrd and Michelle Ellsworth (honored for their impact on the contemporary dance field), and Marcus Gardley and Lauren Yee (for excellence in theater), reflective of the award's mission to invest in exemplary individual artists in contemporary dance, jazz and theater. As a press release says: "The award is not a lifetime achievement award. Rather, it is a deep investment in the creative potential of dedicated artists." Each artist receives an award of $275,000—$250,000 of which is completely unrestricted, and $25,000 is dedicated to encouraging savings for retirement or later life needs.
Carrington was on tour in Germany when she received the call informing her of her award, the result of a year-long confidential selection process involving panels of her colleagues. "For a long time, I felt that I was not fully accepted by my peers and played mostly with people from a generation or two before me," she said. "So it means a lot to have this type of endorsement from my peers." During an orientation session for incoming awardees, she learned more of Doris Duke's legacy. "When I read and heard more about her, I understood her ideals about essentially American art forms like jazz. She's a true visionary. So that made me even prouder. Her legacy has inspired me. It's funny—it's not like you get recognized, you get funding and that's the end of the story. I feel like Doris Duke herself is challenging me to be the best artist I can be."
Lewis also prizes the connection with the Duke foundation beyond the liberating effect of financial support. "This award aligns me with an organization is socially progressive, so there's a true affinity, and that resonates not just for me but in the eyes of others around the world." Lewis's 2008 book, A Power Stronger Than Itself: The AACM and American Experimental Music, chronicles among other things the efforts of musicians such as Pulitzer winner Henry Threadgill and celebrated composer Anthony Braxton to find creative freedom and support; he sees his award in that historical context. "I think that an award like this is evidence that the struggles of many musicians have established real cultural advances, especially as it relates to the multi-modal, post-genre creativity the AACM fostered, and that I make."
With these 2019 Artist Awards, the Duke foundation has awarded more than $10 million to 37 artists in the field of jazz since 2012. Its commitment to jazz was also reflected in $3.5 million in lead funding to South Arts, based in Atlanta, Ga., to launch Jazz Road, a national program designed to expand jazz artists' touring to a wide range of communities.
"The landscape for jazz is considerably different than it was decades ago," said Maurine Knighton, program director for the arts at the Doris Duke Charitable Foundation, over the phone. "When we listen to artists, we find that the opportunity to share their work and be fairly compensated these days is fractured enterprise. There can be profound gaps that threaten the well-being of the artist and the vibrancy of the art form. We work from the understanding that the art form is a living breathing thing, not stuck at one point of time, and that it is re-created daily, much like the cells of our bodies are being regenerated every day."