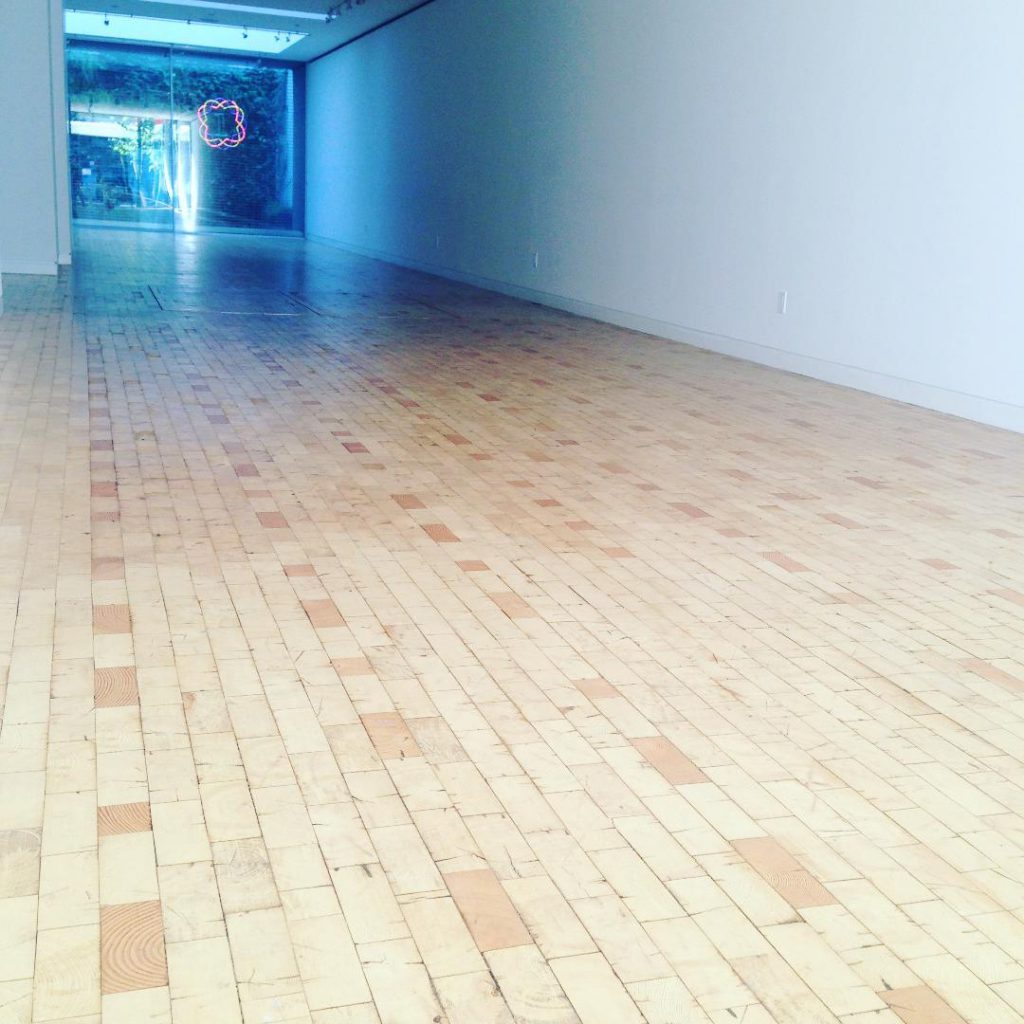 The darker blocks within the wood floor of happylucky no. 1, an art gallery and community arts space in the Crown Heights section of Brooklyn, spell out the name of the place in morse code, according to Liane Fredel.
Fredel, the former graphic designer who bought the space five years ago, renovated it to express, "an inviting concept, open but with an air of mystery," she said, and she intends it to foster "more than just art, but rather a larger sense of culture."
There is no sign outside announcing the place. There is, however a website, that offers this by way of description:
…a gray, fishscaly building…. The façade is marked by a door and a yellow neon dandelion. We are not exactly sure what happens, or what will happen, within the elongated rectangular box that is the interior of happylucky no. 1.  Vaguely speaking, there will be events, exhibitions and experiments, the subjects/results of which might occasionally be edible, or medicinal.

There will be things on the walls and floors and floating through the air; sights, sounds and ideas requesting your assistance in their propagation.  There will be triumphs and, as this is a human endeavor, the occasional disaster.
All of the above—the subtly encoded messages, the overarching mission and the blend of seriousness and humor—make happylucky no. 1 a fitting home for the latest iteration of The Stone— which began as a tiny but influential East Village performance space in an unmarked windowless former Chinese restaurant, founded by John Zorn in 2005 to present experimental  music, and that has grown into a somewhat sprawling initiative.
Zorn, whose influence as a producer and presenter now equals his stature as a musician and composer, has curated "The Stone Series" at happylucky no. 1, beginning March 1—Friday and Saturday night performance that will run at least through 2020. Continue reading "John Zorn's Stone Rolls Into Brooklyn's Crown Heights"